Cimon Medical's NeoDoppler provides constant monitoring of cerebral blood flow in premature infants. It must be interpreted quickly and without error by healthcare professionals in hectic situations.
Together with Cimon Medical we were able to achieve this and more. This is how optimal user interface design and pragmatic usability engineering works for a complex medical device.
Initial situation & project
One in ten children is born prematurely. This entails major risks. The youngest of them have up to a 50% increased risk of severe brain damage.
There are countermeasures against such instabilities, but these instabilities must be detected by altered blood flows in the brain. Currently, there is no solution for constant monitoring of these values.
Cimon Medical's NeoDoppler is designed to change that in the future by constantly monitoring cerebral blood flow. Changes in cerebral blood flow should thus be quickly detected and immediately signaled to healthcare professionals – and this is precisely where the challenges of the project lay:
How can NeoDoppler be operated quickly and without errors in hectic situations?
How can measured values and alarms be communicated as simply and directly as possible to medical users but also to parents who are present?
How to implement the duty of usability engineering in the most beneficial way for a better product?
Note: NeoDoppler is currently under development and not yet available for clinical use.
Project planning and kickoff
This project was completely planned right from the start with concrete dates and deadlines for agreements and customer approvals.
In addition to project planning, the joint kickoff also served to get to know each other as a project team and to discuss open questions and planning in person.
Initial formative evaluations of wireframes are the basic framework for the 3DUX approach.
Different design approaches of the workflows and functions of NeoDoppler could be validated or falsified with the later users already in an early project phase.
This allowed us to collect real opinions from real healthcare professionals already in the subsequent formative evaluations.
After the release of the wireframes, the users were presented with typical tasks of such a device, which they were to perform on the basis of the wireframes.
In addition, the handling of current solutions was considered and feedback on the wireframes was obtained in a structured manner.
Based on the user tests, we worked out a first and complete interface design for Cimon Medical's NeoDoppler. The workflows within NeoDoppler were revised and a graphical design of the interface based on the Cimon Medical style guide was created by our design team.
In addition to user & client requirements, requirements of other stakeholders were also considered.
Formative evaluations & designsprint
The second formative evaluation of NeoDoppler was a pre-summative evaluation in addition to the validation of the first visual design.
Experiences and observations from the formative evaluations could be translated as new input directly into the interface design.
From the results a final interface design was elaborated and handed over to our client.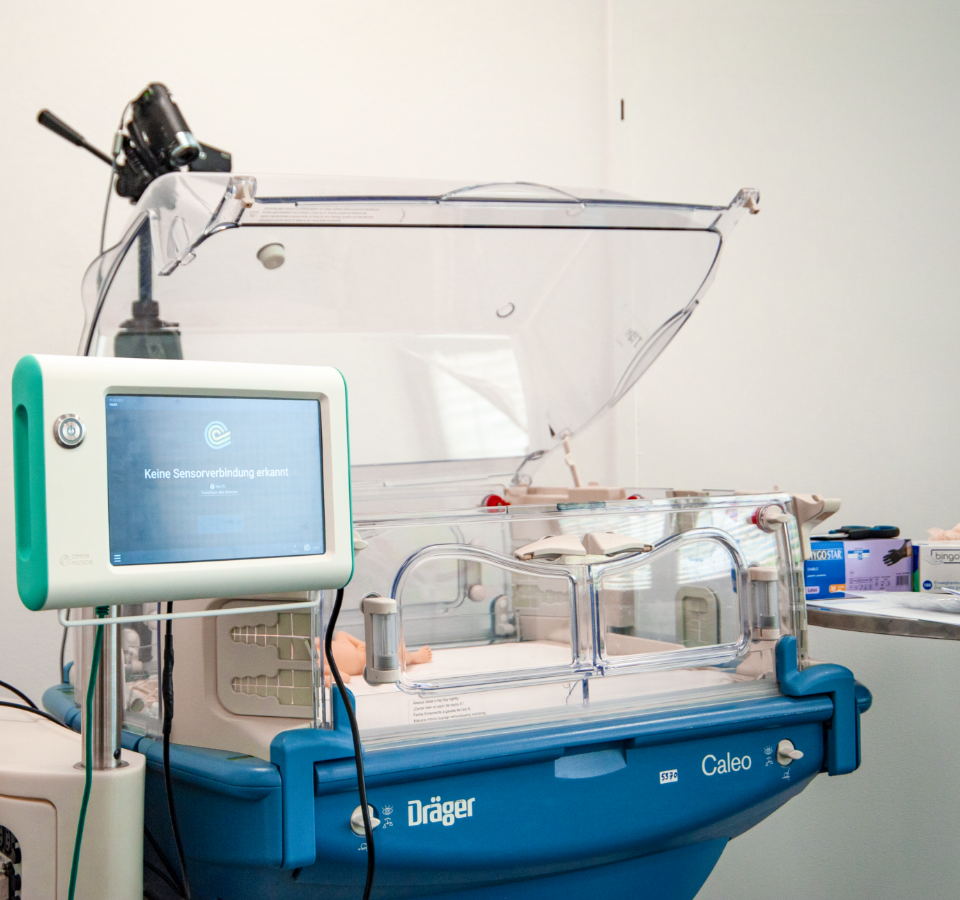 After the final design sprint, we conducted the summative evaluation according to IEC 62366-1 with our TÜV Rheinland certified Medical Devices Usability Experts.
The summative studies also take place in our Medical Usability Laboratories at the Darmstadt site.
The result is a user interface that was designed on the basis of real users, their needs, behavior and desired workflows.
The visual design is very tidy and allows information to be conveyed quickly. Parameters and alarm modes can be set with a few intuitive finger movements.
We are very pleased that not only the users, Cimon Medical and we are enthusiastic about the result, but also the juries of renowned awards. The interface design of the NeoDoppler was awarded as RedDot Winner Interface Design for 2021.
Do you want to work together quickly, purposefully and respectfully at eye level? Let's talk about your challenges in an uncomplicated way and find out together how we can support you. Arrange your first free and non-binding get-to-know-you meeting now.